<![if !vml]>

<![endif]>Oneida Lake Education Initiative
"Your gateway to understanding Oneida Lake"


Angling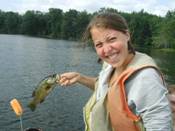 The variety and abundance of Oneida Lake's fishes astounded early visitors to the area and quickly established the lake as one of the state's premier fisheries. Throughout history, anglers have pursued northern pike, smallmouth and largemouth bass, lake whitefish, walleyes, bullheads, sunfish, and yellow perch. In modern times, however, walleyes reign supreme as the lake's most popular game fish.
Creel surveys conducted between 2002 and 2005 revealed that Oneida's rich fish resources annually generate between 200,000 and 300,000 angler-hours during the open water season. Ice fishing inspires up to 70,000 hours of additional effort, depending on the duration of safe ice conditions.
More than seventy percent of Oneida Lake's anglers target walleyes. Total annual catches in the early 2000s ranged from 45,000-190,000 fish, anglers harvested 20,000-40,000 walleyes annually. Ice fishing resulted in catches of an additional 2,000-14,000 walleyes per year.
Oneida Lake's smallmouth and largemouth bass attracted media attention in the early 2000s and are now the second most popular quarry of the lake's summer and fall anglers. Bass fishing accounted for between 25,000 and 35,000 hours of fishing effort during the creel survey years. This generated catches of up to 64,000 fish, most of which were released.
Yellow perch have long been a popular all-season species. Perch annually attract some 20,000-70,000 hours of effort, accompanied by harvests of from 12,000-150,000 fish.
Oneida Lake's fish resources are truly one of the jewels of the region, providing opportunities for tens of thousands of anglers. With conscientious stewardship, the fishery should thrive for generations to come.
To learn more about Oneida Lake Angling...
To access Oneida Lake



Oneida Lake Education Initiative Information Homepage