<![if !vml]>

<![endif]>Oneida Lake Education Initiative
"Your gateway to understanding Oneida Lake"

Fish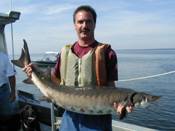 Oneida Lake nurtures a diverse fish community of over seventy-five species of warm water and cool water fish. The present fish population differs markedly from that encountered by European settlers. Historical records show that Oneida Lake provided Native Americans with American eels and Atlantic salmon. The Iroquois used weirs to trap eels leaving the lake to spawn in the ocean. Natives constructed brush dams to catch salmon spawning in the lake's tributaries. Salmon and eels were also speared at night from canoes, lit by torches.
By the nineteenth century, early settlers established a commercial salmon fishery, but this enterprise was doomed by dam construction on the lake's tributaries and the Oswego River, which blocked the migration of these fish. Over-fishing may have helped deplete this species.
Conflicts between sport anglers and commercial fishermen contributed to a state ban on netting in 1897. This law gave rise to the "Oneida Lake fish pirates," a group of outlaw netters who boldly harvested the lake throughout the first half of the twentieth century. Rivalries between fish pirates and the lake's "game protectors" produced colorful stories that adorn the lake's history.
Perhaps the most significant change to the fishery resulted from the completion of the Erie-Barge Canal in 1918. The combination of barriers and water level stabilization changed the lake's fish population dramatically. New dams and locks further restricted movements of migratory species such as eels. The draining of wetlands and marshes decreased spawning areas for northern pike and pickerel. Lakeside development, which accelerated in the 1920s, eliminated aquatic grass beds near the shores, another significant area for pike and pickerel propagation.
By the 1940s, a fishery once dominated by bass, walleye, yellow perch, pickerel, eels and bullheads had transformed to primarily a walleye fishery, with smallmouth and largemouth bass a distant second. Yellow perch thrived under these conditions and continued to be popular. This fishery has endured, affirming Oneida Lake's reputation as one of the premier walleye and bass destinations in the nation.The walleye fishery is maintained and enhanced by a combination of natural reproduction and a continuous stocking program, started by New York State's Oneida Fish Cultural Station at Constantia in 1897.

Anglers reported severe fluctuations in Oneida's walleye catches during the latter 1950s. "Feast or famine" years characterized the fishery. Many worried about the walleye population's health and, indeed, survival. Two significant events occurred because of this. The Oneida Lake Association, led by President Millard Rogers, successfully lobbied for a law, passed by the legislature in 1960, which banned the sale of walleyes. In addition, a research program was begun to examine the factors influencing trends in the lake's fish populations. Early studies by Dr. John Forney and colleagues at the Cornell Biological Field Station indicated that anglers accounted for most of the adult walleye mortality and that prey abundance had a dramatic effect on walleye survival, as well as their vulnerability to angling. For example, in years where forage fish were scarce, walleyes were eager to take anglers' offerings. However, walleyes also cannibalized their young during those times. These circumstances resulted in fewer adult walleyes for the future. In years with abundant young yellow perch, white perch, or gizzard shad, fishing was poor and young walleyes survived in quantities that provided more adults in subsequent years.
To learn more about Oneida Lake Fish Species...


American Eel, Atlantic Salmon, Bluegill, Brown Bullhead, Bowfin, Burbot,
Carp, Chain Pickerel, Channel Catfish, Emerald Shiner, Gizzard Shad, Green Sunfish, Lake Sturgeon, Largemouth Bass, Northern Pike, Pumpkinseed, Sea Lamprey, Smallmouth Bass,
References for fish species pages: